FXTM Products
A wide range of products are available to trade with FXTM, ranging from Forex, Spot Metals, CFDs on Shares, CFDs on Commodity Futures, and CFDs on ETFs and Indices.
FXTM offers more than 50 currency pairs including Gold and Silver, which clients can trade 24/5 at a leverage up to 1:1000 with spreads as low as 0.1. In addition to this, FXTM offers 5 decimal pricing, where traders have a more accurate pricing model enabling better spreads.
The broker has direct liquidity pricing and real-time data straight from the NYSE and NASDAQ, the world's two largest stock exchanges, where it is able to offer 180 stocks are offered by the Broker which can be traded directly through an MT4 Shares Account with a margin requirement of just 3%. Any events such as dividend distribution affecting the relevant companies, are directly passed on to the client.
As mentioned above, clients also have the ability to trade Commodities such as UK Brent, US Crude, US Natural Gas, along with Indices, specifically GDAX, AUS200, ND100M, UK100, and SP500M.
FXTM offers Standard Accounts and ECN Accounts. There are several differences between the Standard Account Types available, but the most important ones for newbie traders are the Minimum Deposit and the Spread. We can see that Spreads are higher for Cent Accounts than for Standard Accounts, which is something we don't agree with, as Cent Accounts are typically the ones newbie traders will choose as they have lower minimum deposit and Contract Sizes are usually 1,000 rather than 100,000 as is for Standard Accounts.
The Shares Account is obviously different to the other two Accounts as it relates to clients who only want to trade CFDs on Shares rather than Forex.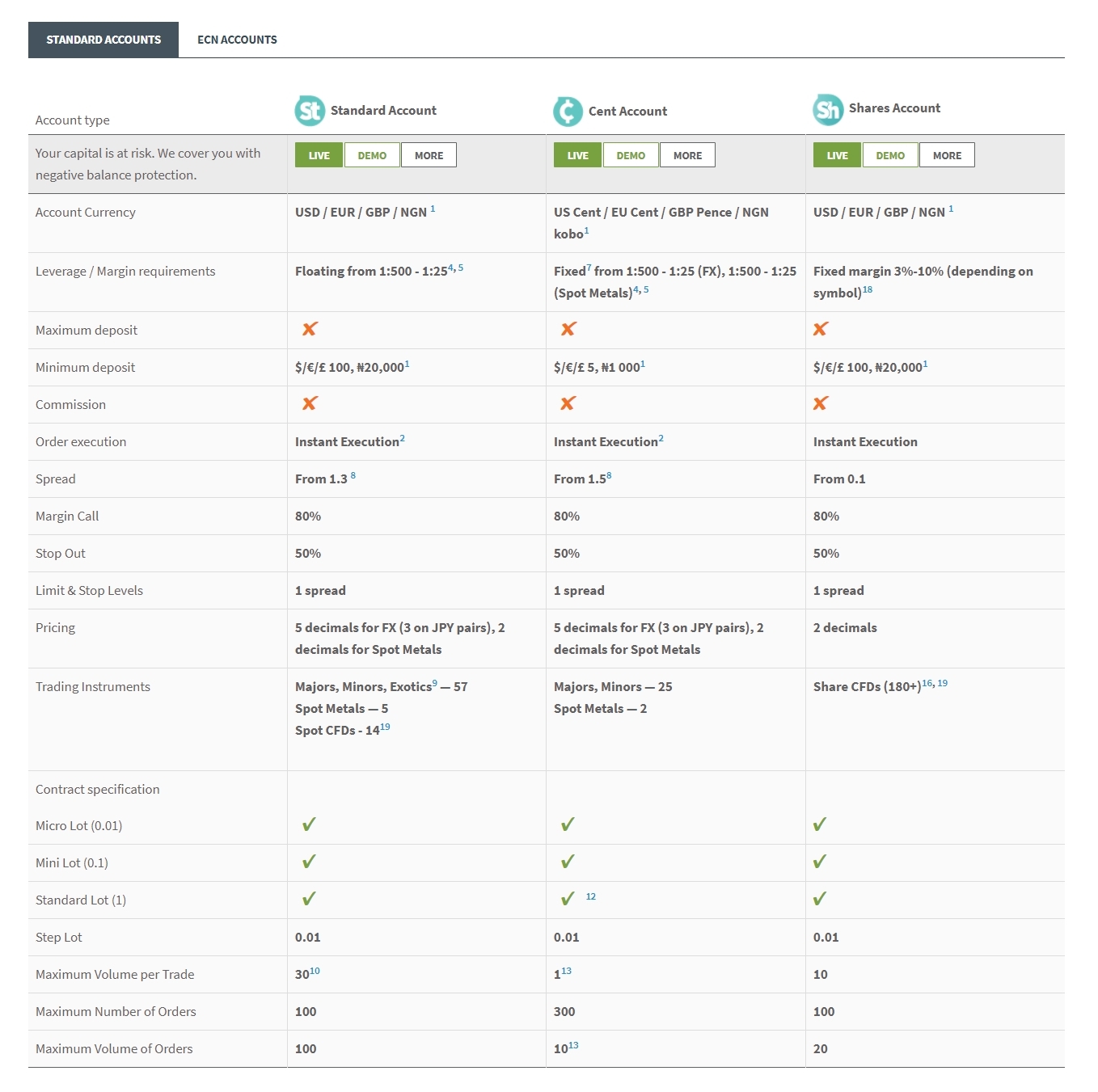 FXTM Account Types
On ECN Accounts, FXTM offers Accounts that have a higher Minimum Deposit starting at 200 EUR, whereas due to the ECN execution, clients can choose from either an 'ECN Account', or an 'ECN Zero Account', where the first has a low spread starting from 0.1 pips and a commission of $2 per lot, whilst the latter has no commissions but has a much higher spread starting from 0.5 pips.
On the other hand however, clients can opt to go with the 'ECN MT5 Account', which requires clients to trade on the MT5 Platform with a spread at 0.2 pips and commission at $2 per lot.
The best conditions available are the FXTM Pro Account which has spreads as low as 0, with no commission, however involves a lower leverage at 1:200, as well as a massive minimum deposit starting at 25,000 EUR.
Last but not least, FXTM offers Social Trading in the form of 'Strategy Trading'. There has been a trend in Social Trading in the last few years, where clients prefer to follow other traders with proven profitability rather than trade themselves.

We advise all clients that we believe investment in education is paramount to a trading career, and quick 'solutions' such as following other clients trades and signals will definitely not work out for the long term.